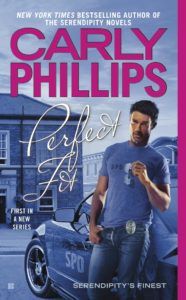 Perfect Fit
by
Carly Phillips
is the first book in the Serendipity series and it's the first book by
Phillips
that I've read. I enjoyed it enough that I will read the second book but I can't give it an unqualified recommendation.
The hero, Mike, is a cop who comes back to the small town he grew up in to take over his adopted father's role as Chief of Police while his father undergoes chemotherapy. Mike's loyalty to his family is the best part of his character. Unfortunately, Mike uses his biological father as an excuse to do whatever he wants no matter who it hurts, including his family. It's a cop out that irritated me through the whole book.
Cara is a bit of a puzzling character. She's loyal to a fault, she's an excellent cop, and she's a great friend to those she allows close. However, she judges her mother for not leaving a bad relationship but doesn't exactly run from an unhealthy one herself and she does not see the parallels at all. While I understand the difference between her parents' abusive relationship and her merely unhealthy relationship with Mike, I sort of expected Cara to be a bit more self-aware than she was.
Erin and Sam are Mike's siblings and are strong secondary characters that made me want to read more about them. They had true sibling interactions with Mike and Sam was very protective of Cara, his close friend, because he knows Mike better than anyone.
Alexa is Cara's best friend and another very strong secondary character. Alexa has her own issues but in true best friend fashion is willing to call Cara on her bs. I found Alexa to be a bit of a mystery and hope that Phillips gives her a book of her own.
Interesting secondary characters and setting and family drama make
Perfect Fit
worth reading if you can overlook a hero who won't take responsibility for his own actions and a heroine who isn't as self-aware as she should be.
Synopsis
In the picturesque town of Serendipity, New York, three siblings have grown up in the shadow of their proud and respected police chief father. But what do love, fate, and fortune have in store for the next generation of Serendipity's finest?
Always feeling like the odd man out in his family, Michael Marsden wanted to make it on his own. So he escaped Serendipity to become an undercover cop in Manhattan, where the Marsden name wasn't known. But Michael's independence is compromised when he returns home to replace his sick father as chief of police. Back in the shadow of his family, he's as lost and restless as ever, until he's challenged by someone he never anticipated.
Cara Hartley is the Serendipity cop with whom Mike had a one night stand three months earlier. Neither expected anything more but fate has other things in store. When Mike returns as Cara's boss, the sexual tension between them is impossible to ignore – and the unexpected emotional connection continues to grow. But Cara's a small town girl while Mike has a wanderer's blood in his veins.
Both are convinced a future together is impossible. Until Mike's real father's secrets come back to haunt him and he realizes there are some things worth staying and fighting for. Including Cara.