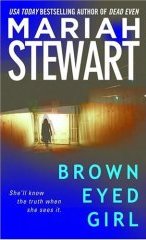 Brown Eyed Girl
by
Mariah Stewart
is a well-written and medium paced romantic suspense novel.
I have to admit it has been awhile since I read a
Stewart
book though I have always enjoyed them. My mom actually gave me
Brown Eyed Girl
because my hometown is mentioned in it several times.
Leah is strong and creative but she is still hurting from the loss of her sister Melissa. Missy disappeared on her way home from college and Leah is determined to find the answers about what happened to Missy. A large monetary reward for information is available and a serial killer, Raymond Lambert, contacts Leah saying he has information but wants the reward money. Leah agrees but before Lambert can tell her what she wants to know, he is killed in prison. Leah is determined to find the answers without him and goes to the person she thinks is an expert in Lambert and his crimes.
Ethan has been hiding away from the world in rural Maine after his wife's death at Lambert's hands. He is giving and selfless, agreeing to help Leah find answers despite the pain it causes him. Ethan is also very protective and more likely to recognize the signs that something is wrong than Leah is. He's also more willing to take drastic action to keep those he loves safe.
The secondary characters, particularly Holly and Tom, Ethan's father and daughter, make this story. The interactions between Ethan, Holly, and Tom give Ethan's character a depth it wouldn't have otherwise had. Leah's remaining family, her cousin Catherine, is less revealing of Leah's personality. Catherine is a little standoffish and snobby and is a fairly flat character.
The mystery of the killer is done well and I didn't guess anything until his identity was revealed. However, the "unexpected twist" wasn't particularly unexpected as I guessed the involvement of that character early and easily.
Synopsis
A fashion magazine features editor, Leah McDevitt is haunted by the memory of her cherished younger sister, Melissa, who vanished years ago. Missy, whose extraordinary eyes -- one blue, one brown -- may have lured her abductor to her....When Leah receives a letter from death row inmate Raymond Lambert, she eagerly agrees to pay him the long-standing reward for information about Melissa -- even if it means coming face-to-face with a notorious serial killer.
But before Lambert can impart his secrets, he himself is killed. Devastated but determined, Leah heads to the Maine woods to seek out private investigator Ethan Sanger, who authored a book about Lambert in exchange for yet another of Lambert's terrible secrets. Leah and Ethan strike a sparking passion with the power to heal their painful pasts. But someone has his eye on Leah...someone who knows more than he should...and who won't be satisfied until Leah sees the truth with her own eyes.