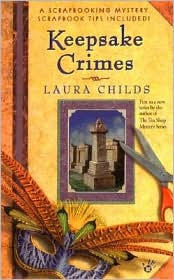 Keepsake Crimes
by
Laura Childs
is the first book in the Scrapbook Mysteries series. I have read many of
Childs
'
Tea Shop Mystery series
books so I thought I'd check out this series as well.
Keepsake Crimes
was a decent mystery in that I didn't guess who the killer was until the reveal. It had an excellent setting and provided interesting scrapbook details especially for someone like me who doesn't do scrapbooking. Maybe if you do, this isn't as good but I found it to be just enough detail without being overwhelming.
The main character, Carmella, was just okay. I actually didn't like her much as a person. Her husband leaves and four months later she still hasn't filed for divorce - Who does that? Her reactions seemed kind of unreal in a lot of situations. Carmella's husband, Shamus, had no redeeming qualities - none - but she acts like he's prince charming.
Carmella's "friend" and employee, Gabby was not a friend at all. Who asks a friend to hold their job and they'll come back when your troubles are over? That's completely ridiculous and Carmella's reaction to that situation was one example of how unreal her reactions were. The appropriate reaction is - show up and work your shifts or find a new job. Instead, Carmella is a complete pushover and thinks it is acceptable!
The rest of the secondary characters in
Keepsake Crimes
were overly stereotypical or just completely flat. Several of the store's customers were so similar that I kept getting them confused.
Overall,
Keepsake Crimes
is a decent mystery but the characters leave something to be desired. If you are looking for a cozy mystery series with great characters and solid mystery plots, I'd recommend
Childs
'
Tea Shop mysteries
over the Scrapbook Mystery series.
Synopsis
As the bawdy Pluvius parade rolls through the streets of New Orleans, something goes very wrong atop the giant sea serpent float. Carmela Bertrand, owner of Memory Mine, a scrapbooking shop in the French Quarter, is shocked when a body is suddenly handed down - a dead body! If that isn't bizarre enough, her soon-to-be-ex husband, Shamus Meechum, quickly comes under fire as the number one suspect! As Carmela kicks off a new round of scrapbooking classes and designs a commemorative scrapbook for St. Cyril's above-ground cemetery, Shamus appeals to her for help. And Carmela uncovers an important clue in a very unlikely place - one of her customer's scrapbooks!